Premium quality aluminium sliding doors
The Origin Artisan Slider OS-20
With ultra-slim sightlines of just 20mm, the structurally bonded system enables the Artisan Slider to accommodate large expanses of glass providing maximum natural light into your home. Available with up to 6 panels up to 13metres.
The Origin Patio Sliding Door OS-44/OS-70
A modern take on the traditional patio door, these bespoke doors have two sightline options - 44mm or 70mm. These are not bonded units and so there is the option to choose which glass works best for you whether it be laminated, toughened, solar coated etc. These doors are available with up to 3 panels up to 6metres.
Truly bespoke sliding doors
As with all Origin products, the sliders are bespoke with a range of colours, hardware and configuration to choose from. Both styles offer the same high levels of security, functionality and style. Origin's industry leading 20 year guarantee offers peace of mind that your doors have been precision engineered to last.

Our doors - your way
Each style of sliding door has different configuration and handle options. Both styles are available in the same colour ranges as all the Origin doors and windows so you can create a uniform look around your home.
Configuration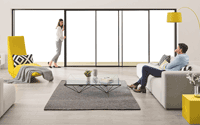 A flexible range of configurations will ensure that your doors can be tailored to meet the requirements of your home.
These guidelines will show you the available configurations and panel sizes on each style for your opening.
In addition, you can decide which panels are fixed and which slide.
Handles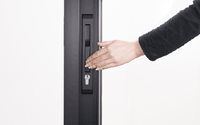 To reflect the aesthetics of each style of slider door, Origin offer different handles on the OS20 to the OS44/OS70.
All offer the same high level of security, ease of use and stylish finish.
Colours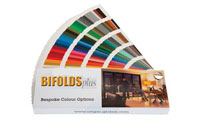 Both systems are available in Origin's standard colour range.
But may be you need to step outside of these options? Not a problem as the sliders can be manufactured in up to 150 RAL colours to ensure that you get the perfect colour for your home.