Handles for Origin Sliders
The handles available on both sets of sliders are designed with safety and security in mind while simultaneously providing a stylish and contemporary finish to your sliders.
Origin Artisan Slider OS-20
Locking solidly into either the adjacent door or jamb, these doors have a multi-point ultra-secure security system offering a minimum of sox points of locking. Integral to this is the streamlined lever handle securing your doors with one easy flip.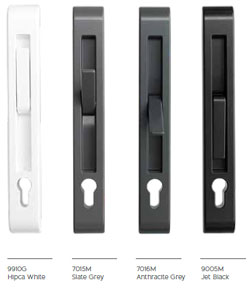 Origin Patio Sliding Door OS-44/OS-W77
Choose from a stainless steel combined lock and handle combination or a stainless steel bar handle and separate lock. Both can be operated from both inside and outside. Testing on the OS-44/OS-77 barrel proves it resistant to common housebreaking techniques. Additionally, they are designed to prevent the lock being used without the correct key.