Installation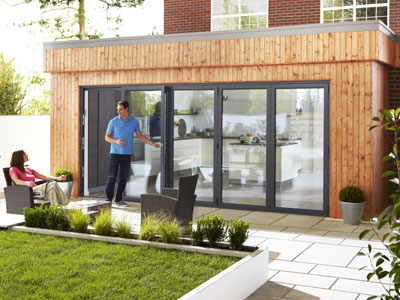 So you have carefully selected your bifold doors and are now looking forward to being able to enjoy them to the full. You know that a set of Bifolds Plus doors are going to be aesthetically pleasing, safe, secure and robust.
You are mere weeks away from transforming your living space into the realisation of your dreams. You have every reason to be excited! We will even cover the cost of installation in Cheshire, Staffordshire, Nottinghamshire, Derbyshire, Shropshire, Leicestershire, Lancaster and Merseyside.
However, our doors will only live up to your expectations if they are fitted correctly. Installing our bifold doors is not a difficult job but it is different to installing other door systems.
All Bifolds Plus doors are installed in your home by our fitters who are all fully trained by the manufacturer. They install these doors, and only these doors, each and every day. They are experts. So why would you ask anyone else to fit them?
Most single sets of doors can be installed in a single day. Larger sets, corner sets and multiple sets will sometimes require a second day. We can confirm this for you before you place your order.
It goes without saying that the fitters will all treat your home with the respect it deserves and they have a pride about their work and the doors. They want to see your delight as you open them for the first time.